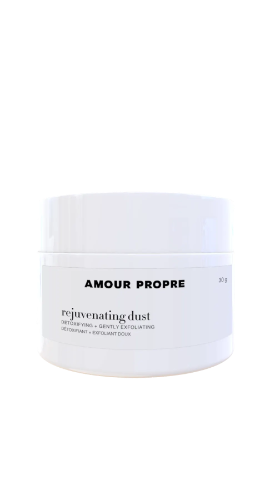 DETOXIFIES + SUPPORTS CELL TURNOVER + DECONGESTS PORES
PER SELECTED LIQUID OF CHOICE, A TEASPOON OF MASK INFUSES & CATERS TO DIFFERENT SKIN NEEDS MAKING THIS FORMULA A 3-IN-1 DETOXIFYING, SOOTHING & MILD EXFOLIANT AT ONCE.
CHLORELLA, SPIRULINA, RICE POWDER, RED VINE LEAF, COLLOIDAL OATS, AUSTRALIAN YELLOW CLAY
---
ONCE TO TWICE A WEEK, SET ASIDE 1 TEASPOON OF MASK INTO THE PALM OF HANDS. PROGRESSIVELY ADD DROPS OF LIQUID OF CHOICE UNTIL AN APPLICABLE PASTE IS OBTAINED. APPLY TO SKIN FOR 10 MINUTES. BEFORE RINSING OFF, WET TIP OF FINGERS AND MASSAGE SKIN IN CIRCULAR MOTION FOR GENTLE EXFOLIATION. RINSE OFF WITH A WET CLOTH.
* This product is vegan friendly.
* This product is nut-free.
Spirulina (Spirulina Platensis) Powder, Chlorella (Chlorella Vulgaris) Powder, Colloidal (Avena Sativa) Oats, Australian Yelllow Clay, Alfalfa (Medicago Sativa), Marshmellow (Althaea Officinalis) Root, Red Vine (Vitis VInifera)Leaf, Rice (Oryza Sativa) Powder, Calendula (Calendula Officinalis), Gotu Kola (Centella Asiatica) Leaves, Camu Camu Berry Powder.

"This is probably one of my favourite clay masks to use. So gentle with minimal exfoliating (...) It really is one of a kind."
- Tiffany M.

"I love this mask it detoxifies my skin without drying it and leaves a natural glow."
- Julie K.

"I can't live without it. My skin is more even and I see a continuous improvement in my complexion and texture."
Erika M.
---
---
---
---