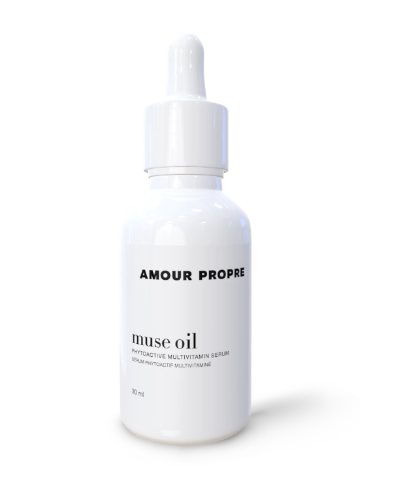 MOISTURIZING + NOURISHING + REGENERATING
A NATURALLY ACTIVE & CONCENTRATED FORMULATION BOOSTED WITH RENOWN BOTANICALS FOR THEIR REGENERATING, SKIN REPAIRING & BALANCING PROPERTIES.
REPLENISHED, BRIGHTER, MORE EVEN IN SKIN TONE & BALANCED
A LUXURIOUS COMBINATION OF A 20+ SELECTION OF NATURE'S MOST HEALING BOTANICAL INGREDIENTS PROVEN TO CATER TO A WIDE VARIETY OF CONTINUOUSLY CHANGING SKIN NEEDS & PROVIDE RELIEF TO ALL SKIN TYPES INCLUDING DRY SKIN, SENSITIVE SKIN & ACNE-PRONE SKIN.
LAVENDER, PRICKLY PEAR, SEABUCKTHORN BERRIES, BLACK CUMIN SEEDS, COMFREY, CAMU CAMU BERRIES, IMMORTELLE FLOWERS, MYRRH, ECHINACEA, RED CLOVERS, JAPANESE KNOTWOOD
AROMATHERAPEUTIC BENEFITS
CALMING & STRESS-RELIEVING
---
MORNING & EVENING, APPLY ONTO CLEAN SKIN FOLLOWING OUR B3 COMPLEX OR THE HYDRATING STEP OF YOUR SKINCARE ROUTINE. FOR OPTIMAL ABSORPTION AND ENHANCED EFFICACY, GENTLY MASSAGE INTO SKIN FROM THE CENTER OUTWARDS.
* This product is vegan friendly.
* This product is nut-free.
*This product contains a very small dose of essential oils, making it suitable for all skin types including sensitive skin.
Jojoba (Simmondsia Chinensis) Oil, Grapeseed (Vitis Vinifera) Oil, Olive (Olivea Europea) Oil, Argan (Argania Spinosa) Oil, Lavender (Lavendula Officinalis), Black Cumin (Nigella Sativa) Seeds, Rosehips (Rosa Canina), Pumpkin (Cucurbita Pepo.) Seed Oil, Prickly Pear (Opuntia Fica Indica) Oil, Immortelle (Helichrysum Italicum) Flowers, Avocado (Persea Gratissima) Oil, Bergamot (Citrus Aurantium) Peel, *Elixir Essentiel; Red Clovers (Trifolium Pratense), Japanese Knotwood (Polygonum Cuspidatum), Plantain (Plantago Lanceolata), Calendula (Calendula Officinalis), St. John's Wort (Hypericum Perforatum), Stinging Nettle (Urtica Dioica), Violet (Viola Odorata), Tea Tree (Melaleuca Alternifolia), Sage (Salvia officinalis), Echinacea (Echinacea Purpurea), Comfrey (Symphytum officinale), Witch Hazel (Hamamelis Folium), Ginseng (Panax Ginseng), Seabuckthorn (Hippophae Rhamnoides) C02 Extract, Glycerin, Geranium (Pelargonium Graveolens) Flower Oil, Rosemary (Rosmarinus Officinalis) Extract, Tocopherols (Vitamin E).

"I love it! I can feel it nourishing my skin during my sleep. I have acne-prone skin, it's very nice to find something that works well with i!"
Whitney M.

"I've been using the Muse Oil for two months and my skin has never been so beautiful. One of the biggest revelations for me for products."
Essia B.

"Gorgeous smell and texture and makes my skin so soft and dewy. A must!"
Julia R.

"I have a combination skin that goes from dry to acne-prone skin and it is always hard for me to find a product that hydrate my skin well without making it to oily + breakouts. This product has the perfect balance. I have been using it for a few weeks now and my skin feels and looks better then before."
Elizabeth L.

"I've been using the Muse oil since a week and my skin never been so even and soft!
This is little magic in a bottle."
Gabrielle R.

"I am in love with this product.
I have combination skin with an acne tendency and ever since I've been using this oil it's never been so beautiful!"
Gala D.

"Made my skincare routine quicker and more effective. And the one effect that this oil had that made me give it 5 stars (probably deserves more!) is the fact that it is slowy making my hyper-pigmentation go away that multiple microdermabrasion facials couldn't get rid of! It is truly a little miracle in a bottle!"
Emilie H.

"I am in love with this product.
I have combination skin with an acne tendency and ever since I've been using this oil it's never been so beautiful!"
Gala D.
---
---
---