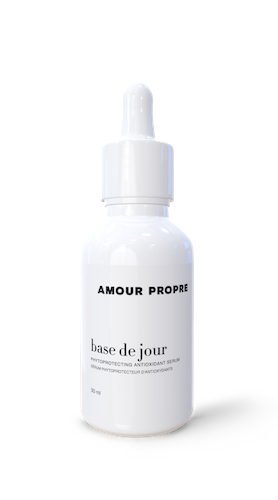 MOISTURIZING FACE OIL + PROTECTIVE ANTIOXIDANT SERUM
U.V ADSORBIING ANTIOXIDANTS BEST DELIVERED TO SKIN WITH OILS HELP PROTECT + PRESERVES FROM ENVIRONMENTAL STRESSORS.
AROMATHERAPEUTIC BENEFITS
ENERGIZING | ROSE OTTO + SPEARMINT
KEY INGREDIENTS + NATURAL ACTIVES
GREEN TEA, TAMANU OIL, ROSEHIP OIL, GINGKO BILOBA, RASPBERRY SEEDS, SPEARMINT, TOMATO SEEDS, JUNIPER BERRIES, PARSLEY SEEDS +
LYCOPENE, EGCG, VITAMIN E, MYRISTINE
---
MORNING & EVENING, APPLY ONTO CLEAN SKIN FOLLOWING base de jour OR THE HYDRATING STEP OF YOUR SKINCARE ROUTINE. FOR OPTIMAL ABSORPTION AND ENHANCED EFFICACY, GENTLY MASSAGE INTO SKIN FROM THE CENTER OUTWARDS.
* This product is vegan friendly.
* This product is nut-free.
*This product contains a very small dose of essential oils, making it suitable for all skin types including sensitive skin.
Argan (Argania Spinosa) Oil, Grapeseed (Vitis Vinifera) Oil, Olive (Olivea Europea) Oil, Rosehips (Rosa Canina), Pumpkin (Cucurbita Pepo.) Seed Oil, Green Tea (Camellia Sinensis), Holy Basil (Ocimum Sanctum), Juniper (Juniperus Communis) Berries, Raspberry (Rubus Idaeus) Leaves, Tamanu (Calophyllum Tacamahaca) Seed, Parsley (Carum petroselinum) Seed, Gotu Kola (Centella asiatica), Spearmint (Mentha Spicata), *Elixir Essentiel; Red Clovers (Trifolium Pratense), Japanese Knotwood (Polygonum Cuspidatum), Plantain (Plantago Lanceolata), Calendula (Calendula Officinalis), St. John's Wort (Hypericum Perforatum), Stinging Nettle (Urtica Dioica), Violet (Viola Odorata), Tea Tree (Melaleuca Alternifolia), Sage (Salvia officinalis), Echinacea (Echinacea Purpurea), Comfrey (Symphytum officinale), Witch Hazel (Hamamelis Folium), Ginseng (Panax Ginseng), Prickly Pear (Opuntia Fica Indica) Oil, Geranium (Pelargonium Graveolens) Flower Oil, Spearmint Oil, Myrrh (Commiphora myrrha) Oil, Spearmint (Mentha Viridis) Oil, Rose Otto Oil, Rosemary (Rosmarinus Officinalis) Extract, Tocopherols (Vitamin E).
---